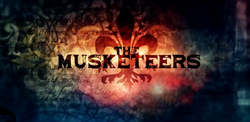 The Musketeers is a drama serial based on The Three Musketeers, which was originally written by author Alexandre Dumas. The series is a co-production between BBC and BBC America and was created by executive producer and lead writer Adrian Hodges. The series has so far broadcast Series One and Two with a third commissioned and currently filming for an unconfirmed 2016 release. Following the second series, creator Adrian Hodges announced that he would not be continuing to write for the series.
In 17th century Paris, musketeers d'Artagnan (Pasqualino), Athos (Burke), Aramis (Cabrera) and Porthos (Charles) fight for what is just and are heroes in the truest and most abiding sense — men we can trust and believe in to do the right thing, regardless of personal risk.
Main and Recurring
edit
Episodes
edit
Main article: Series One
Main article: Series Two
Main article: Series Three
Merchandising
edit
to be added
External links
edit
Footnotes
edit
Ad blocker interference detected!
Wikia is a free-to-use site that makes money from advertising. We have a modified experience for viewers using ad blockers

Wikia is not accessible if you've made further modifications. Remove the custom ad blocker rule(s) and the page will load as expected.