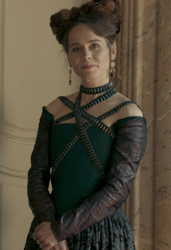 Marie de Medici comes from the junior, or cadet, branch of the great Florentine house of Medici. Mother to Louis XIII and queen regent of France, Marie de Medici left lasting impact on French society and aristocratic politics. She indulged in lifelong campaigns of scheming exemplified by that against Cardinal Richelieu.
In the words of Honoré de Balzac madame Medici's life is summarised thus:
"Marie de' Medici, all of whose actions were prejudicial to France, has escaped the shame which ought to cover her name. Marie de' Medici wasted the wealth amassed by Henry IV; she never purged herself of the charge of having known of the king's assassination; her intimate was d'Épernon, who did not ward off Ravaillac's blow, and who was proved to have known the murderer personally for a long time. Marie's conduct was such that she forced her son to banish her from France, where she was encouraging her other son, Gaston, to rebel; and the victory Richelieu at last won over her (on the Day of the Dupes) was due solely to the discovery the cardinal made, and imparted to Louis XIII, of secret documents relating to the death of Henry IV." – Essay Catherine de Medicis.